Analysis of Vintage Sterling and Coin Silver Tableware by X-Ray Fluorescence
The table below shows the results of XRF analysis of an assortment of "coin silver" and sterling silver flatware pieces.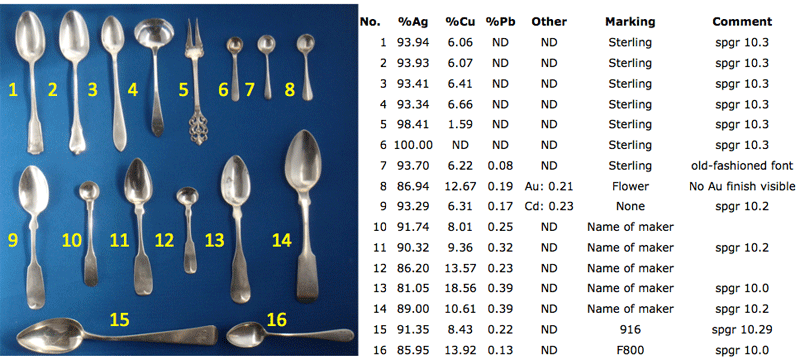 Several observations can be made:
1.Pieces 1-4 marked "Sterling", with a modern appearance, assayed at 93-94 wt% silver and 6-7% copper, versus an expected nominal composition of 92.5% silver and 7.5% copper. The quantitation software (Fundamental Parameters Algorithm) is probably giving a reading that is approximately 1% high for silver and 1% low for copper, which is yet to be confirmed with an analytical standard. The density of the pieces (10.3 g/cc) is consistent with authentic sterling silver, but the precision of the density measurement is not high enough to determine composition to the nearest percentage point. No other metals were observed in the modern pieces.
2.Pieces 5-6 are marked "Sterling" and this is confirmed by density measurements, but the XRF assay is high, at 98-100% silver. It is likely that these pieces were finished via either depletion gilding, or more likely, electroplating, with a layer of pure (fine) silver on top of the sterling, causing a high reading. See Heterogeneous Materials section for examples of the readout from other plated materials.
3. Beginning with piece 7, vintage patterns (~80-90% silver) were found to contain traces of lead, typically in the range of several thousand parts-per-million (tenths of a percent). Lead may have been present in the silver, as the two metals occur in minerals together and refining techniques back then were more primitive than they are today.
The trace of gold observed in piece 8 is probably residue from gilding or vermeil to protect the silver, and not part of the alloy. However, in order to prove this, an abrasive would have to be used to remove a layer of metal from the surface. If there was a coating at some point, it is not obvious to the naked eye.